A waste paper baler is a machine that compresses all kinds of waste materials, such as OCC, paper, cartons, paperboard, and so on. The main working principle of the paper baler machine is to use the hydraulic or pneumatic pressure to force the material into the head of the device. After compression by high pressure, it can be stacked into a bale. Paper balers are widely used in recycling industries such as waste plastics, electronic scrap recycling plants, battery recycling plants, and other facilities related to waste materials.
The waste paper baler adopts hydraulic oil as the power system, with stable performance. You can also add materials manually or load them automatically according to your needs, and the bale size can be customized; there are electric switches and PLC control cabinets, which significantly improve the baling efficiency.
Types of waste paper baler machine
Waste paper balers are available in various sizes, models and types. There are vertical and horizontal balers, which have different uses depending on the application.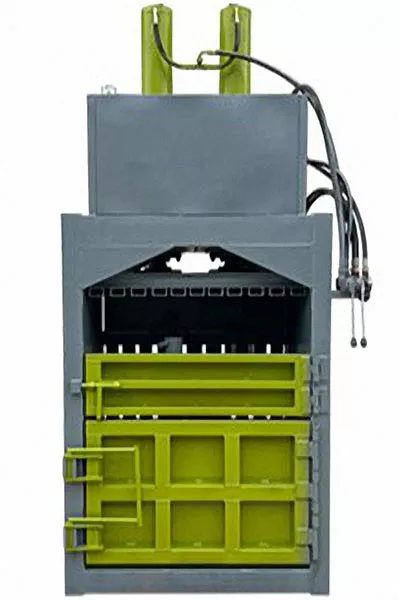 vertical waste paper baler
The vertical baler requires manual button control.
2 bale channels at the bottom.
Bale pushing device at the rear for easy pushing out of bales.
Pressure from 10ton-160ton for your choice.
Safety net can be added according to the characteristics of the material.
Easy installation, no foundation is needed.
You can choose whether to add belt conveyor for feeding or not according to your needs.
Pressure of hydraulic system: 10-100 tons
Power: 7.5kw -22kw
Bale size: Customizable upon request
Bale weight: 65kgs – 450kgs (Different materials, the weight of the bale will be different)
Machine weight:600kg-2000kg
Pressure of hydraulic system: 800kn -2000kn
Power: 22kw-44kw
Voltage standard: 3ph.380v / Customizable upon request
System Pressure: 28mpa
Hydraulic Oil: 46# Harding-waring hydraulic oil brand
Capacity: 8 bales per hour
Control system: PLC, semi-auto, full automatic
Waste paper baler machines can also be divided into manual and automatic. The manual waste paper baler machine needs manual bundling, while the automatic waste paper baler machine needs packing machine control.
Advantages of waste paper baling machine
The hydraulic cylinder controls the size of the outlet, which is stable and safe;
PLC, button, touch screen integrated automatic operation, saving labor;
The bales number can be automatically recorded;
The design of the distributed cutter dramatically improves the cutting efficiency and effectively reduces the load of the whole machine;
The coiled automatic strapping system, simple structure, easy maintenance to ensure that the bales are firmly bundled and convenient for transportation and storage;
Automatic adjustment of fast and slow speeds, effectively increasing production capacity and reducing losses;
Preset pressure, release overload protection; intelligent control, self-checking procedure;
The emergency stop button is installed independently, which can stop at any time;
The hydraulic cylinder adopts the automatic fine-tuning installation method, eliminating the torque and significantly prolonging the service life.
Waste paper baler machine price
The waste paper baler machine has horizontal and vertical balers. The price of the horizontal paper baler is higher than that of the vertical baler. The price of the most miniature vertical waste paper baling machine is about 1200 US dollars, while the most miniature model of the horizontal waste paper baling machine costs about $13,000. The waste paper baling machine price varies greatly depending on its size, brand, and material type used by manufacturers to produce it. We can also provide some discount if you need more than one waste paper baling machine at once or if you want to buy more machines with us in the future. Leave a message to get the paper baler price list.
Vertical and horizontal balers can bale not only cardboard, but also other waste materials you want to recycle, such as waste plastics, old clothes, textiles, used tires, etc.