Tire Baler Machine For Sale
A tire baler machine is a kind of equipment for centralized recycling of waste tires, which can press down vertically, compressing hundreds of tires into a bale block for easy transportation. The tire baler machine is widely used in automobile factories, steel mills, ports and other places where there are large quantities of waste tires.
Tire balers are ideal for handling large quantities of tires quickly at an affordable cost. These machines are designed to crush and bale up to nine hundred tires per hour!
Tire baling machines are used to compress old or discarded tires into blocks that can then be processed and recycled into new rubber products. Tire baling machines are also known as tire recycling machines and tire recycling plants.
A vertical pressing type tire baler is mainly used to compress waste tires by pushing them downward with a large number of rollers. The machine adopts a single-cylinder hydraulic system to drive the rollers.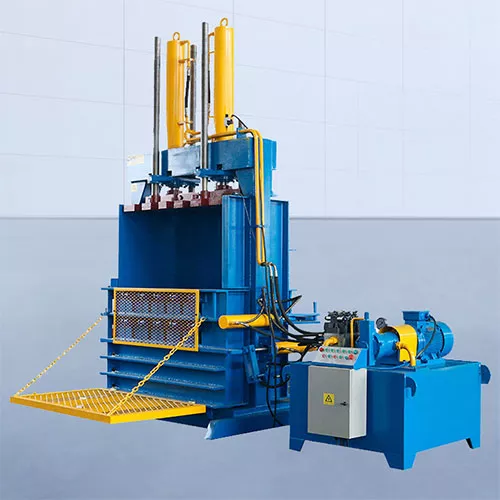 Scrap Tire Baler Machine Parts
The waste tire baler is mainly composed of a hydraulic cylinder, frame, chassis, control rod, hydraulic door, cylinder, electric control cabinet, etc.
The electric control cabinet is composed of a PLC control unit and touch screen panel, which can realize automatic operation according to the customer's requirements.
The waste tire baler adopts a modularized structure design for easy maintenance and replacement of parts.
The core components of the waste tire baler are the machine frame and hydraulic cylinder. The machine frame is made of a high-strength steel plate with high quality welded structure. 
How does a tire baler machine work?
First, add hydraulic oil and put the scrap tires inside the baler. After the material bin is filled, start the remote control switch and start automatic compression, followed by manual or automatic rope bundling, and a tire bale is finished.
Advantages of Tire Baler Machine
The hydraulic baler has strong pressure, which can compress not only waste tires together, but also cardboards, waste plastics, textiles, etc. It can really realize one machine with multiple uses.